"Menu Link" pages actually aren't pages at all. They are just hyperlinks that appear in your website's navigation menu and take the user to a website either inside or outside your own site.
A Menu Link can be useful if you have two or more separate pages that are closely interrelated and you want the one page to link directly to the other page when clicked in the menu.
E.g.: You have a parent page with several subpages, but the parent page doesn't have content of its own and when a visitor clicks it in the menu the first of the subpages is to be displayed. This can be done by using Menu Link for the parent page with the target subpage #1.
If there is an anchor included in the linked page it can directly be targeted.
The Menu Link editor is very simple, giving you only the following options:
Link: the url to where the menu link will take the user. If the linked page is a page of your own WebsiteBaker installation, just choose it from the dropdown menu. If you want to link to an external site choose "External link" and enter the url in the text field alongside.
Anchor: If the linked page is a page of your WebsiteBaker installation you can choose from the anchors included in the page using the dropdown menu.
Target: same options as in Admin -> Pages -> Change Settings -> Target
Redirect-Type: You can choose between two ways of using redirection in order to tell users and search engines etc. if the linked page permanently replaces the old site and the old url isn't valid anymore (type: 301 Moved Permanently) or the linked page is available only temporarily (type: 302 Found). Generally using "type: 302" is advised against, a webmaster using it could be blamed for so called "url hijacking".
Save/Cancel Buttons: Click to save the entered information, or to cancel, and return to Admin -> Pages -> Modify Page.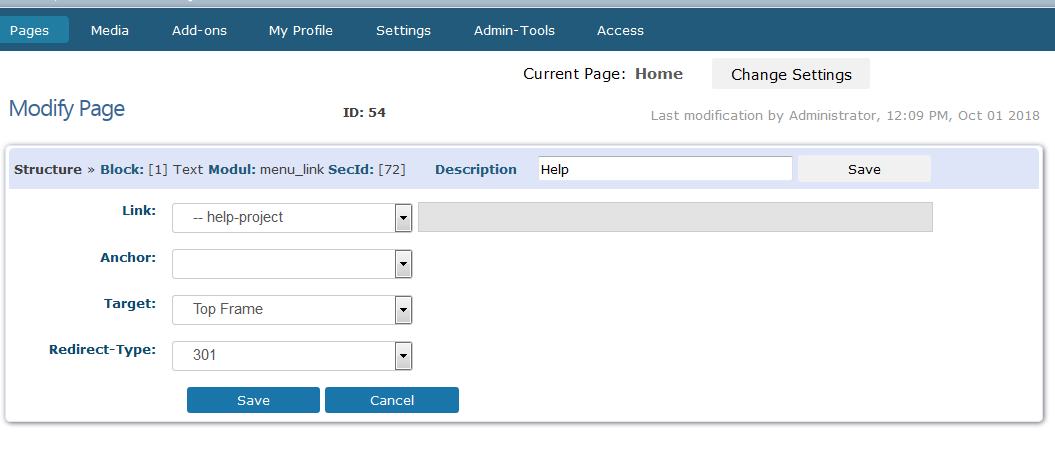 The Menu Link editor