WebsiteBaker can be extended, by installing Add-ons downloadable from the official Add-ons Repository .
Add-ons fall into 3 main categories, which reflect the sub-sections in "Add-ons":
Modules: extend the functionality of WB, by adding extra Admin tools, page types, or other functions.
Templates: control the appearance – and some of the frontend functionality - of your site
Languages: allow you specify the language of your site's pages, as well as change the language used in the Admin area, and some of the interface items displayed throughout the pages in your the site's frontend.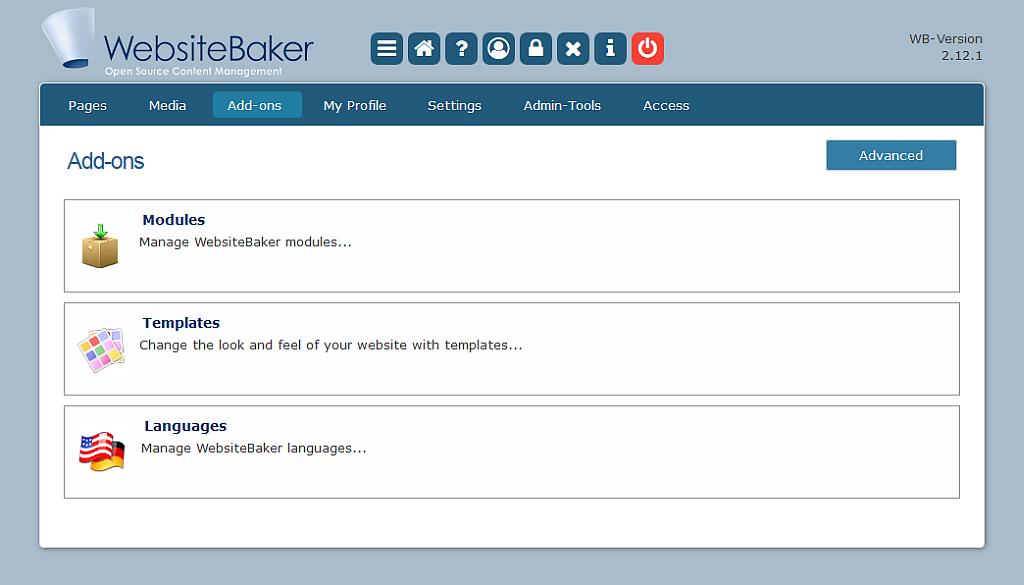 The Add-ons page after clicking on "Advanced"
Advanced
Since WebsiteBaker 2.8 right above you can find "Advanced".
If it is selected, the additional item "Admin Options" appears. It can now compare uploaded modules via FTP (in the FTP directory /modules), templates (in the FTP directory /templates) and languages (in the FTP directory /languages) with the existing modules and load them when needed in the database - now it's possible that these add-ons are viible and usable for WebsiteBaker.

Normally this function is not required, however.