We recommend that you verify that your current settings meet the minimum requirements needed for WebsiteBaker to run and function as expected. If you are unsure about your particular setup's configuration meeting these minimum requirements you should check with your Internet Service Provider, your Website Hosting Company or your Server Administrator, as appropriate.
The following are required for WebsiteBaker to run:
A web server (the Apache web server works for sure)


Note:

IIS, or any Windows based server may not work proper with WB
At least 9 MB webspace (modules, media, templates need more)
PHP 5.2.2 or higher
For WB <2.9.0 mySQL-Server 4.1 up, for WB from 2.9.0 a mySQL-Server 5.0.3 up is needed.
PHP Safe Mode = off
Activated PHP Session Support
You will also need FTP access where WebsiteBaker is to be installed to and any decent FTP program to upload files with.
On your server, create the directory where you want to install WB.
Make sure you have permission to read & write to this directory via ftp. To confirm, you can use your ftp client to try accessing, uploading and deleting a file there.
Create a MySQL database and a database user for your new site. Make sure the user has proper permission for adding and deleting both entries and tables in the database. Make a note of the database name, the user and password.
If you are unable to create a new database, because of limits by your webhost or other reasons, you may use an existing database and user instead of creating a new one.

During the installation it is possible to change the default table prefix to clearly seperate the tables from those used by other programs. This also makes it possible to use the same database for several sites (and installations of the software), if desired.
The latest version of WebsiteBaker you can download here. Normally there is 2 versions available for downloading ''.zip' and '.tar' archives. Their contents are identical, the only difference is how they are compressed. Mac or Windows usually will use '.zip' archives, while Linux/Unix users normally use '.tar' archives.
Once it has been downloaded, you can decompress the archive (unzip), and it should show a file structure as in the following example:

Decompressed WebsiteBaker Installation Package
Using your preferred ftp program, you can now upload the files from the wb folder in the Installation Package to the folder you created on the server for your new WebsiteBaker site.
Files should be uploaded with exactly the same file structure as they appear within the Decompressed Installation Package..
The Installation Package contains different kinds of files (HTML, php, Javascript, image, etc.),- therefore we recommend to use `the automatic' transfer mode in your ftp program.
Directory structure where WebsiteBaker has been uploaded to a folder called "mycompany":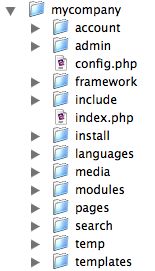 WebsiteBaker has a built-in installer, that will guide you, step-by-step, through your site's installation and setup process. To launch the installer, open your web browser, and enter the address to access the directory where you've just uploaded the WB files. If you uploaded the files correctly, WB will detect that this is your first launch, and will automatically start up the installer. You should see a page titled "WebsiteBaker Installation Wizard".


Welcome to the WebsiteBaker Installer